SurveilStar Any Parental Control -- Monitor Instant Message
Are your children spending too much time on chatting? Do you want to know what your children are most concerned? Here SurveilStar Any Parental Control can remotely monitor Instant Messenger chats and automatically record conversions and outgoing files sent via ICQ, MSN Messenger, YAHOO, TM, UC, POPO, SKYPE, and Google Talk.
What is Instant Messenger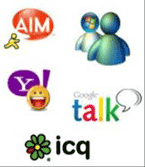 Instant messaging is real-time communication. It's a blend of e-mail and chat (since you send one to someone and get real-time communication), but better. It's also fast eclipsing e-mail as the most popular Internet communication tool. Instant messaging is much faster than the other ways of internet messaging like e-mails and proffers instant gratification to the user. Nowadays, instant messaging is a popular way of social interactions. Answering e-mails is time-consuming and it does not indicate whether the person you want to communicate with, is online or not. Instant messaging not only saves time and money, but also enables faster messaging and also maintains the natural flow of conversation. Instant messaging is one of the best ways available on the internet, for staying in touch with relatives and friends.
Watch for Warning Signs Concerning Your Child's Online Activity
Is your child online late at night?
Is your child alone for most of the time during his or her online sessions?
Is your child spending the majority of his or her time online in chat rooms?
Is the online activity excessive (over two hours on average per day)? This, of course, is not school- or homework-related online time. As a parent, I realize that we are loosing more and more of our children's at home time to homework.
Instant Messaging Monitoring Software -- Keep IM Safety for Kids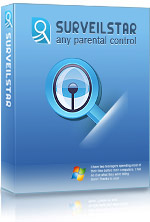 The benefits of IMs are many. With this tool you can chat and communicate with anybody anywhere for free. Some Internet messengers even give you the option to call, if you have a microphone and speaker, or see the person you are calling or chatting with real-time, if you have a web cam. However, these IMs can pose a threat to kids due to the possibility of online predator. As a concerned parent, you can not watch your kids' online activities all the time. So you need to install a parental control software to monitor and record your kids' online activities for protecting their safety. Here SurveilStar Instant Messaging Monitoring Software is a versatile parental control software, gives you the ability to control and monitor your child's use of the Internet, irrespective of where you are: in the neighboring room, at work, or even on vacation, thus enabling you to protect your kids from danger in chat rooms.
SurveilStar Instant Messaging Monitoring Software features:
* Monitoring and recording instant message such as MSN, ICQ and etc. remotely.
* Easy to use, quick live support.
* Hidden to User, Undetectable to anti-virus and anti-spyware.
* Recording Facebook/MySpace activity.
* Monitoring internet usage with detailed reports.
* Presenting a statistic on pages visited, time and length of visit, the application usage.
* Take screen snapshots in real time.
* Monitor and record rent & received email.
* Monitor the websites visited and block the unwanted websites.
* Much more features…
SurveilStar Any Parental Control is the Best Instant Messaging Monitoring Software for parents to monitor and record IM chats such as SKYPE, ICQ, MSN Messenger, YAHOO, TM, and Google Talk etc.