Prevent Kids from Video Game Addiction with SurveilStar Any Parental Control Software
Prevent kids from spending too much time on Video Games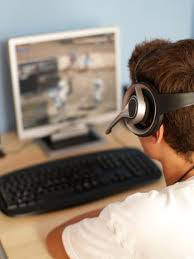 About Video Game Addiction
Video game addiction is the overuse of video games whether online or at a console. Although this type of addiction is not yet considered a formal diagnosis, this should still be treated as a disorder.
Video and computer games have a huge fan following among children and youngsters nowadays. Parents find it quite befuddling to deal with this addiction and try to find out reasons behind this fanatical devotion to video and computer games.
Nearly one in 10 children and teens who play video games show behavioral signs that may indicate addiction, a new study reports. The study found 8.5% of those who played had at least six of 11 addictive symptoms, including skipping chores and homework for video games, poor test or homework performance and playing games to escape problems.
Here the following are interesting statistics about video games according to a recent study of 1,178 children in the US.
* almost 9 percent of child gamers are pathologically or clinically "addicted" to playing video games ;
* 23 percent of youth say that they have felt "addicted to video games," ;
* one-third of males and a little more than one in 10 females reporting the sensation;
* forty-four percent of the youth 8 to 18 also reported their friends are addicted to video games;
* the average child 8 to 12 plays 13 hours of video games per week;
* teens age 13 to 18 year play 14 hours of video games per week.
Are you concerned that your kids are addicted to Video Games?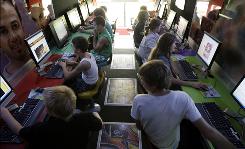 Do your children spend long period time on playing video games every day? Do they sacrifice social and sporting activities? Do they prefer to playing video games instead of doing homework? If all the answer is YES, you should take some immediate measures now to protect children from being addicted to video games since they may suffer great harm from the video game addiction.
Playing video games is a hot favorite among kids and has literally become a habit for many of them. Parents must handle it before it becomes an addiction. The considerate and wise parents know that they should use a parental control software to prevent the kids from being addicted to video games. So for preventing your kids from video game addiction, you need to install a Parental Control Software on your kid's computer to monitor and restrict your kid's playing video games.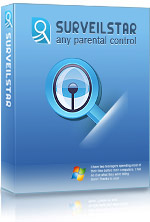 SurveilStar Any Parental Control Software --- Protect Children From Video Game Addiction
SurveilStar Any Parental Control Software is a multi-functional parental control program all parents need if they have children between 5 and 16, who are addicted to video games. SurveilStar Any Parental Control Software helps parents prevent their children from video game addiction by controlling application usage and restricting the time that children spend on computer and Internet.
For example, you can forbid kids playing video games by controlling application usage. You just need to input the name of process manually, such as videogame.exe, then set the time restriction. You could allow your kids playing video games one hours per day and block out the hours from 11pm to 6am, so that they cannot playing video games during unreasonable or unsupervised hours.
Key Features of SurveilStar Any Parental Control Software:
Besides the video game controlling feature, SurveilStar, the most comprehensive parental control software, also combines many other award-winning computer monitoring features:
1 Take real-time screen snapshot of the monitored computer
2 Track all incoming and outgoing web emails including sender, receiver and time
3 Control the instant messages and chatting usage
4 Record all visited web pages with URL link, visiting time, page title, web host and data size
SurveilStar Any Parental Control software is absolutely a powerful yet easy-to-use tool for monitoring and controlling computer. With this wonderful software, you can silently record all conversations, block websites, and limit online time for your kids, which can protect your kids from video game addiction, inappropriate websites and any online dangers to ensure a complete healthy online environment for young generation.