SurveilStar Parental Time Control Software
Help you control kids' online time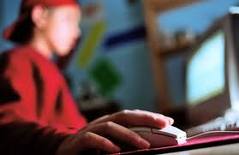 Kids' online time leaps dramatically!
Kids from two to 11 years of age are spending 63 percent more time online than they did five years ago, says a report from Nielsen Online. Children in that age range were online an average of 11 hours in May 2009 versus just 7 hours in May 2004.
Over the past five years, the total number of kids surfing the Net has shot up 18 percent to 16 million, says the report, while the overall Internet population has risen only 10 percent. The younger set now represents 9.5 percent of the online community. Online use among kids surged despite a projected decrease of 1 percent in the population of children under 14 for 2004 to 2010, says Nielsen, citing an estimate from the U.S. Census Bureau.
Results were split pretty evenly by gender. For May 2009, boys 2-11 spent 7 percent more time online than did girls in the same age group, though girls surfed 9 percent more web pages than did boys. Online video has proven popular among kids, especially boys. Among all children, boys watched 61 percent of videos on the Net in May 2009, accounting for 57 percent of the time the children spent viewing online video.
Are you concerned about your kids spending too long time online?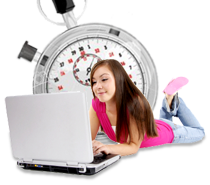 Regardless of the negative aspects and other online dangers, computers and the Internet, are extremely helpful tools that can provide a high level of entertainment and education for kids' mental development. But facing the flooding information on the internet, the kids are too young to distinguish between what they should view and what they should not. It is known that it may be impractical for a parent to sit and watch their child for hours while they are surfing on the internet, or parents may still be at work when their kids get home from school. Additionally, some kids are just a bit mischievous and sneak onto the computer late at night to play games or chat with their friends, so what is the solution?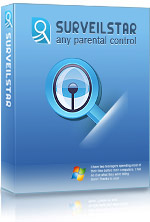 Time control feature of SurveilStar:
SurveilStar Parental Time Control software is a multi-functional parental control program all parents need if they have children between 5 and 16. SurveilStar Parental Time Control software helps parents restrict the time that children spend on computer and Internet. SurveilStar Parental Time Control not only controls how long your child can use the computer, but also when. For example, you could allow two hours per day of computer use and block out the hours from11pm to 6am, so that your child does not use the computer during unreasonable or unsupervised hours.
SurveilStar Parental Time Control offers a complete Internet monitoring and Parental Control Software solution. SurveilStar Parental Time Control can secretly record information on your computer and allows you to specify what days and hours your children may access the computer, internet or any game on your system! Our advanced stealth technology ensures that SurveilStar Parental Time Control remains completely hidden from everyone except you.
Other features of SurveilStar
Besides the time controlling feature, SurveilStar, the most comprehensive parental control software, also combines many other award-winning computer monitoring features:
1 Take real-time screen snapshot of the monitored computer
2 Track all incoming and outgoing web emails including sender, receiver and time
3 Control the instant messages and chatting usage
4 Record all visited web pages with URL link, visiting time, page title, web host and data size
SurveilStar Parental Time Control software is absolutely a powerful yet easy-to-use tool for monitoring and controlling computer. With this wonderful software, you can silently record all conversations, block websites, and limit online time for your kids, which can protect kids from any online dangers and force them to take short breaks in computer work to relax the eyes. Don't hesitate to have a significant try.