How to Control Chat/App Usage with SurveilStar Any Parental Control
Monitor child online activity, grab screenshots, record and monitor websites & more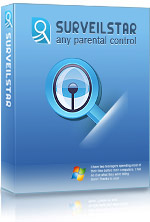 SurveilStar Any Parental Control

Take Screen Snapshot

Monitor the Incoming and Outgoing Emails

Record IM/Chats

Control Visited Websites and Block Unwanted Websites

Run In Stealth Mode

Top 10 Summary Statistic Report
Download

I do really enjoy this parental control for it is easy-to-use and also has powerful functions. Thank you!
----Allen
How to control Chat/App usage with SurveilStar Any Parental Control?
As a considerate parent, you must be concerned about your children's activity in chat rooms. Who are your kids talking to for so long on the computer? What are they talking about? If your children are exposed to the internet wihtout any protection, they are highly at risk encountering the online predator. So a perfect parental control software that helps you protect your children by closely monitoring their activities is necessary.
SurveilStar Any Parental Control records all instant messages sent and received by popular instant messengers, e.g. MSN/Live Messenger, Yahoo Messenger, Skype, ICQ, etc. It also allows parents to customize chat/application setting in control center.
Follow the easy steps to restrict Chat/App usage:

Select a computer/user, a group, or the whole network in the left PC Lists, and then click button

. Then it will pop up the control setting window, you can choose Chat/App Setting.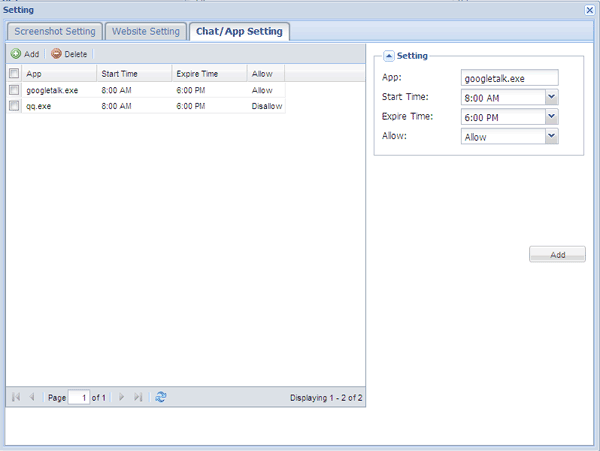 In the right pane, administrators need to input the name of process manually in App, such as googletalk.exe, then choose the Start Time and Expire Time. If choose Allow, it means SurveilStar Any Parental Control will monitor this application at the duration you set; if choose Disallow, it means the control center will not record and monitor this application at that duration.