How to Ensure Online Safety for Your Kids
SurveilStar Parental Control helps parents control and monitor kids' online activities and ensure online safety for your kids.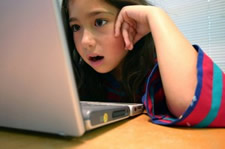 SurveilStar Parental Control helps parents control and monitor kids' online activities and ensure online safety for your kids. Kids tend to surf the Internet at home especially in summer vacation when they are tired of doing sports or travelling outside. Through the Internet, kids can learn abundant knowledge at ease without taking courses in the classroom, which can stimulate their motives and interests for learning. But the Internet is such a vast domain, kids can be exposed to inappropriate contents, such as pornography, racism and violence, this is really the root of parents' concern, and sometimes kids may unintentionally attacked by malware, spyware, trojan, phishing websites causing computer corruption, credit card fraud and theft, privacy leakage and even pollution to your kids' mind. SurveilStar Parental Control helps you to protect your kids.
A study has shown that eight out of ten children between the ages of 10 and 15 surf the Internet, sharing personal information in social networking sites like Facebook, Twitter, MySpace, StumbleUpon, and StumbleUpon, chatting online via IM client such as MSN, Yahoo Messenger, ICQ, Gtalk and etc. Someday, you accidently find many strangers on your kids' friend lists, these strangers are not classmates and friends, but people from all over the country. Why do kids chat with strangers? As parents, you would surely worry a lot. Whom are our kids talking with? Are the strangers Pedophiles? Pedophiles are hiding out there and kids are already targeted, and they cannot aware of the dangers until parents point out and tell them the cons of over exposure of personal information and the importance of self-protection. SurveilStar Parental Control can be helpful to ensure Internet safety for kids.
Kids and teenagers like sharing files such as videos, audio, games, photos on the Internet via P2P software, security problems also exist because the IP address can be detected by the Internet hacker if you were not that lucky enough, and then the computer would be remotely control by the hacker, the hacker can access to any file and any activity of the computer once it is connected to the Internet. SurveilStar Parental Control can monitor, and block P2P softwareand record shared files.
As parents, what should you do?
1. Keep your kids away from the Internet
2. Create a parental control account in Start>Control Panel>User Account
3. Use SurveilStar Parental Control to record, and control kids' online activities
Features of Parental Control Software
SurveilStar Parental Control lets you less worry about your kids' online safety, because SurveilStar Parental Control does more than you can think of.
SurveilStar Parental Control is designed for parents to monitor kids' online activities. With SurveilStar Parental Control, parents can grab screenshots, record sent and received mails, record chatting messages, monitor and record visited websites. So with SurveilStar Parental Control, parents can protect kids from online dangers such as predators and cyber bullying.
• Take Screen Snapshots in real-time
Parents can watch real-time screen to monitor what children are doing. Screenshots are captured and saved chronologically so you can look at them when and where you need to. With this screenshot features, you can search snapshot history by date, name or IP address. Besides, you can not only view the snapshot in full screen but also save it PNG format.
• Monitor and Record Sent & Received Emails
SurveilStar Parental Control records and stores all the information you need about every email. You'll be able to tell whether an email was sent or received, who sent it, who received it, the date and time an email was sent or received, the subject, the contents and any attachments. Thus, you can know exactly kids' online activity.
• Monitor and Block Instant Messenger
Kids are tending to be addicted in chat rooms or instant messengers. With this Parental Control parents can record all instant messages sent and received by MSN/Live Messenger, Yahoo Messenger, Skype, ICQ, etc. As parents who concerned kids may spend too much time in chat room or instant messenger, you can block IM Chats IM outgoing files with specific application names like "Skype.exe", creating an online schedule to limit time spend on IM chats.
• Record and Block Website Visiting
Record all visited websites with HTML title and URL. Support IE, Firefox, Chrome, Safari, Opera and many more browsers. And this web version of Parental Control Software also can be used in many browsers such as IE, Firefox, Chrome, Safari, Opera and etc. The Websites Recording tool can protect kids from accessing to these websites which are inappropriate for the students. So Parental Control can prevent children from viewing unwanted websites.
For more cool features, you can download to have a free trial!